Californian massage: what is it and what does it consist of?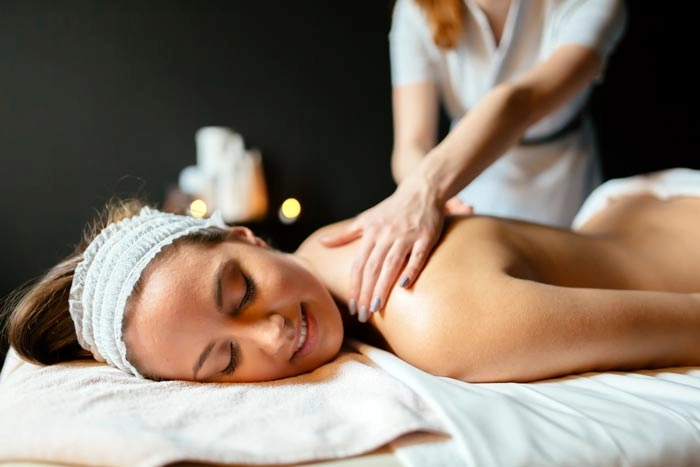 Relaxation, pleasure, pure well-being, search for harmony and psychophysical balance. These are the bases of the massage from California, born in the seventies. Its purpose is to get in touch with the body, serenity and the loss of taboos.
For these reasons, the masseur who performs the Californian method tends to release energy points in the body, taking up the oriental concept of massage in a new age key.
In fact, there are several points of contact between Californian massage, Ayurvedic massage, Tantric massage (empowerment of the senses) and holistic disciplines (the body as a whole). You want to know more? We explain it to you in our Komoder article.
What is the Californian massage?
Californian massage is a gentle and relaxing massage technique that focuses on providing a feeling of relaxation and well-being. It is characterized by long and soft movements, with the use of large amounts of oil or cream. It is often combined with breathing and meditation techniques to help deep relaxation of the body and mind. The aim is to help reduce stress and tension, improving blood flow and skin elasticity.
In what consists a Californian massage?
The Californian massage is based on very soft kneading, rubbing and percussion techniques to help relax muscles and improve blood circulation. The massage is carried out in a calm and comfortable environment, and, as we have said, it is often combined with breathing and meditation techniques.
If you want to enjoy a professional relaxing massage at home, don't miss our selection of massage chairs . Once you've tried them, you won't be able to live without.
7 Benefits of Californian massage
The Californian massage has several health benefits, including:
Stress and Anxiety Reduction: Helps relax the body and mind, which reduces stress and anxiety.
Improved Blood Circulation: The smooth, flowing movements of the massage improve blood circulation, which benefits the entire body.
Pain relief: Californian massage can help relieve muscle and joint pain, as well as headaches.
Improves skin elasticity: the use of oil or cream during the massage influences the hydration and nutrition of the skin, improving its elasticity.
Improved sleep: The Californian massage can benefit and influence the quality of sleep, which contributes to better overall health.
Improved self-esteem and emotional well-being: Californian massage can help improve self-confidence and emotional well-being.
Improvement of flexibility: Californian massage influences the improvement of the flexibility of the body, which can prevent injuries and improve physical performance.
Did you know…?
There is a widespread belief that the Californian massage, as well as many other types of massage, by stimulating lymphatic circulation, can somehow promote the spread of any malignant cancer cell throughout the body (metastasis). In reality, such a belief is not supported by any kind of scientific data and, on the contrary, has been refuted on numerous occasions. In any case, as a precautionary measure, if you have a malignant neoplastic disease, you should consult your oncologist before undergoing any type of treatment.