Know the types of massage that a massage chair can do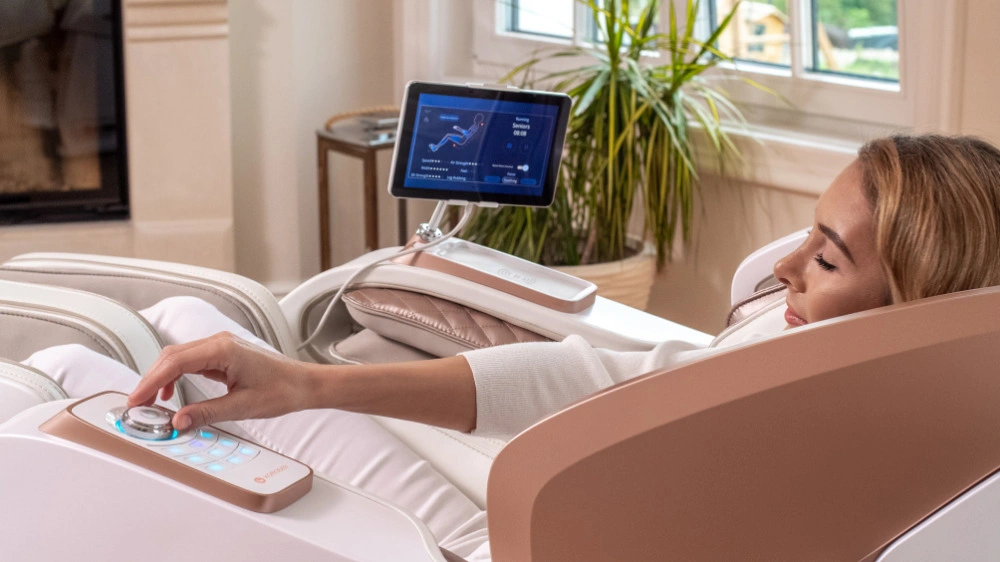 Coming home from a long day at work, kicking off your shoes, curling up in the easy chair, and getting a rejuvenating massage. A dream? No, you just have to know which massage chair to choose.
It is scientifically proven that a regular massage of the back and neck muscles can bring enormous benefits to our health, such as lowering blood pressure, reducing stress and preventing cramps and contractures.
Few things beat the pleasure of coming home and enjoying a well-deserved rest lying on the sofa, so why not a massage chair? If your dream is to have one, keep reading to learn about the different types of massages.
4 types of massages
Standard massage
Standard massage chairs have attachments to massage the arms, legs, and back, and provide a complete massage, from head to toe. Most of those on the market also have a heating system , to also combine heat therapy.
Swedish massage
Swedish massage is a particular type of Western massage that originated in Europe and consists of performing different but very precise manipulations, especially gentle rubbing and intermittent pressure. Swedish massage is practiced with the aim of helping the recipient of the massage to achieve a state of general well-being, both physical and mental. For this reason, in addition to being practiced to promote relaxation and the release of nervousness and tension, this type of massage is also used in cases of discomfort and physical ailments with the aim of alleviating them and, if possible, eliminating them. More specifically, according to those who practice it, Swedish massage should be useful in cases of:
Anxiety and depression;
Headaches;
Difficulty getting to sleep;
Gastrointestinal disorders (constipation, poor digestion, etc.);
Osteoarthritis;
Sciatica, lumbago and muscular problems;
Circulation disorders.
Thanks to the triple rollers that rotate in a circular fashion with a medium intensity, the so-called "kneading massage" is achieved, a perfect function for the stimulation of the nerve centers. Luxury armchairs like the FOCUS II have the option of making these movements in an upward or downward direction.
Shiatsu massage
This massage technique consists of applying pressure to specific points. A very effective method to relax muscles, reduce stress and help alleviate critical conditions of muscle tension. The Titan 2 Shiatsu Massage Chair exerts slow and constant pressure on certain key points of the body to relax the tissues and provides a general feeling of relaxation and pleasure.
The rollers move in different directions and work various areas, from the legs to the back and neck. These can go through the back vertically and horizontally, depending on the massage program chosen for the treatment. The functions are programmable and cover the entire body, and some focus on specific areas with different intensities. Shiatsu massage chairs are designed to mimic the movements you would receive from a professional masseur.
Pressotherapy
Pressotherapy consists of applying air pressure upwards in the area to be treated. These waves give blood flow the boost it needs for a rapid return to the heart. This type of pressure is carried out by applying air to the body, and for this, it is necessary for the person to enter a pneumatic suit equipped with several chambers that distribute air pressure throughout the affected areas of the body.
Some massage chairs include a kind of sock as an accessory, which allows the area to be compressed and drained, just like professional pressotherapy machines.