What types of massage chairs are there?
Have you ever thought of hiring an excellent professional masseuse and requesting their services at any time of the day? If this was your intention, you now have the option of choosing a full-body massage chair to do the same.
Why not have the opportunity to relax at home and enjoy a full back and foot massage while watching the game or your favorite show? Do you often find yourself with sore muscles due to age, lifestyle or work? Massage chairs are becoming the most practical alternative to constant physiotherapist appointments to immediately reap the benefits of a well-done massage through competitively priced massage chairs. But, what types of massage chairs are there ? We explain it to you in this Komoder article.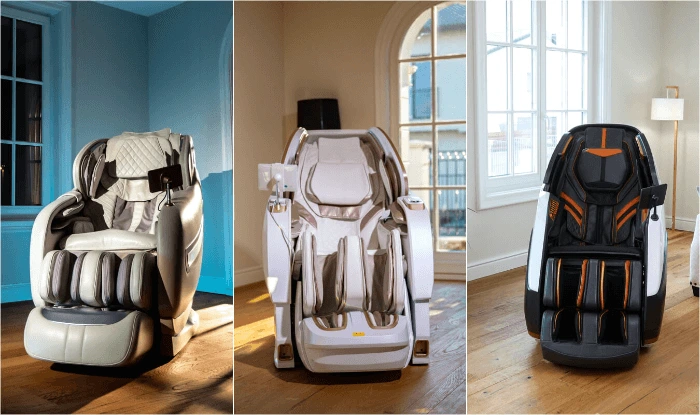 Get to know the 2D, 3D and 4D massage chairs
A massage chair is a dream for many of us. From experience, we can assure you that few things surpass the pleasure of coming home after a hard day and being able to relax in an armchair that massages our sore muscles.
But it's not just about relaxation. Regular muscle massage has been shown to have tremendous benefits, including: cramp prevention, lowering blood pressure, weight loss, and stress reduction.
These types of armchairs can be technologically advanced, and meet different needs: from an older person who needs support to get up and sit down, to an adult who wants to relax physically and mentally, to a younger person who wants to enjoy watching TV or playing games. to a video game.
2D Massage Chairs
2D massage chairs are the simplest model and owe their name to their massage rollers located on the backrest that move by rolling and kneading, from top to bottom and from left to right, in a 2-dimensional plane. Some models even allow you to adjust the speed and width of the rollers.
Today it is possible to find models of 2D armchairs that include some extra features such as professional massage programs, thermotherapy, pressotherapy, 3D surround sound and Bluetooth.
3D Massage Chairs
3D massage chairs also apply lateral movements to vertical and horizontal displacements, moving in a third plane. This means that a 3D chair puts pressure on the back, allows more control and adjustment over the depth of the massage, from gentle to deep. In this way, the massage has a "more human" touch, as if it were a professional masseur.
3D armchairs have an automatic body scanning capability, which determines your shape, height and size, and is much more accurate than that incorporated in 2D massage chairs, thus allowing you to adjust the massage to your body and needs.
Among the functions of these chairs are also personalized massage programs, heating, air injection systems for massages in legs, feet and arms , etc.
4D Massage Chairs
4D massage chairs are the most complete on the market. They provide an intense massage for complete relaxation and to eliminate muscular tension. This type of chair helps to relieve stress caused by work, fatigue and pain, it also has the "Zero" Gravity function. This generates a sensation as if you were floating, since it allows you to lean fully for maximum relaxation. Other of its incredible functions are thermotherapy, which allows you to adjust the temperature, vibration massages and air bag massages.
Some models have massage heads, which simulate a human hand, capable of gathering information from the contour of our back to adjust and personalize the massage.
If you are still not convinced, we encourage you to take a look at our selection of luxury massage chairs, which we are sure will make you fall in love.
Types of massage chairs at Komoder
Titan 2 Shiatsu Massage Chair
The Titan 2 Shiatsu massage chair is the only one that has 24 automatic programs and 6 massage techniques organized into 5 levels of massage intensity. In the Komoder armchairs you will find a tablet with an 8-inch LED touch screen with which you can control the entire massage experience, as well as Bluetooth and 4 integrated speakers . Titan 2 is the only chair with two massage robots (8 rollers) in one "SL" track, the first is dedicated and has 4 rollers for the back and the cervical area , while the second robot has 4 rollers that are dedicated to the lumbar and sacral area. Did you know that you will not only relax your back, but this chair also massages your arms and palms with its shiatsu pads?
Focus 2 Electric Massage Recliner
The Focus 2 Power Massage Recliner integrates 4 intelligent, adjustable, silent, movable hands for a full 3D back massage. Focus II uses the "L-" massage function, a technology that allows it to adapt to the curve of your body naturally to provide a full body massage. Tired feet? Don't worry! Our state-of-the-art Komoder chair also has a reflexology function , with triple rollers for massaging the soles.
Relax with 4D Luxury II massage chair
The 4D relax chair monitors and reports the user's health in real time on: heart rate, microcirculation, oxygen levels. It is equipped with 12 automatic programs, 5 massage techniques and 4 4D intensity levels. The Luxury II is equipped with 8 ceramic- heated massage rollers, in this way the heating reaches the entire surface of the back.