We all need to sit back and relax after a long day at work. All the stress and problems of the workday seem to disappear and we feel good. If we want to further improve that feeling of relaxation, we should consider getting a relax chair or a massage chair. But, what is a relax chair? And how is it different from a massage chair? In this article we will answer, in an exhaustive way, these and some other interesting questions, with the intention of leaving you some general guidelines that will be useful when buying.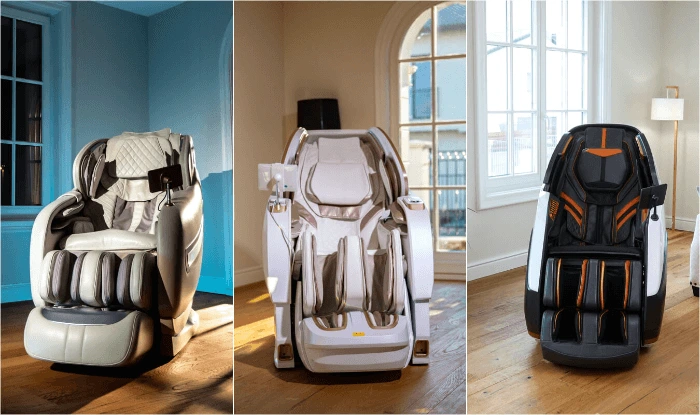 What are Relax armchairs made of?
In general, they are armchairs made of high-quality fabrics and materials that are durable and have a very elegant appearance. There are many different types on the market, each with their own functions: you will find simple recliners, recliners, with footrests and other types of accessories.
The search for convenience and comfort are the main factors that will drive us to look for a state-of-the-art relax chair. In fact, with a straight back and correctly supported neck, we will avoid even serious circulatory and postural problems, comforts that are exclusive to modern recliners.
Types of relax chairs
Reclining armchairs

: they have a backrest that reclines manually or automatically and can be placed in different positions.

Relax chair with lift

: this chair, specially designed for the elderly and people with reduced mobility, is equipped with a motorized mechanism that is operated with a remote control, which raises the seat and tilts it forwards so that the seated person can get up from independent way.

Relaxing chair with zero gravity

: allows you to adopt the very comfortable and useful position of zero gravity that favors blood circulation and relaxation.
Why buy a relax chair?
Home comfort, especially for the elderly or disabled, is very important. That is why it is necessary to have a quality relax chair that combines comfort and practicality. The solidity and robustness of the chair complete the picture, but certain aspects must be taken into account when choosing: size, weight, materials, structure, maximum weight capacity. These are just some of the characteristics that make a recliner chair comfortable and manageable, but also durable.
What is better, a Relax Chair or a Massage chair?
The main reason why we decide to buy an armchair is to fully relax at the end of the day, and the easiest way to check if we like an armchair is to sit in it and test it beforehand. We will know if it is the best for us because we will feel completely at ease. If we suffer from back pain, we will have to look for a chair with good padding on the backrest, and that also provides support for the legs. But, if apart from feeling comfortable and relaxed, we want to lose contact with reality and experience almost unique sensations, what we need is a massage chair. Do yourself a favor, invest in a Komoder massage chair today and experience a new kind of relaxation. Take a look at our catalog and you definitely won't regret it!