THERAPEUTIX massage chair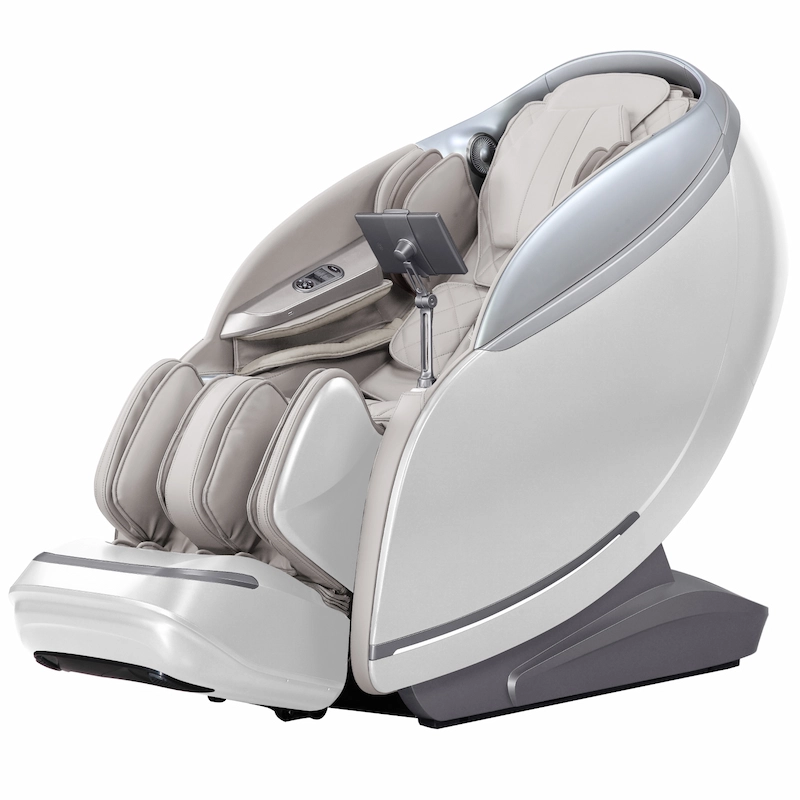 The art of 4D massage
Therapeutix is the latest KOMODER massage chair designed and executed after a thorough research of the human body. Fundamentally, this massage chair stores data and provides solutions to satisfy any type of user, elevating the massage to the next level.
A more effective massage
A successful massage is a sum of variables that must all be considered; that is precisely why Therapeutix determines all the essential parameters of the user right from the start. Intelligent height scanning is done before the massage starts. The width between the shoulders is also determined; thus, the stroke of the massage rollers will be much more precise over a length of up to 135 centimetres. The Therapeutix is capable of performing a gentle and deep massage on four adjustment levels for the massage roller paths.
Memory programs
After reviewing all the massage programs, there will be programs and massages that best suit the user's mood and health. In the case of other massage chairs, saving them in a separate folder is impossible. However, Therapeutix comes with an innovative function: saving your favourite massages. There are three possibilities for saving and three for reusing them later.
On point massage
For each of us, some areas are vulnerable, tense, or painful. A generalized massage will address the entire body, but an excellently targeted one can be much more effective. Therapeutix gives you a choice between five areas of action. The fixed point massage is the one that will deal exclusively with the designated area, insisting on the blockages felt in that area. The other four focus on back massage, lower back massage, upper back massage, and a low-intensity back-and-forth local massage. In this way, the efficiency of resolving a contract or tension is significantly increased.
Limitless 4D massage
Modern massage technology is a field of constant transformation. The 4D variant represents the most advanced level, featuring the latest generation of massage chairs. In this case, the massage rollers, in addition to the classic surface movements, perform deep movements inside the muscles, much more precise in tense or affected areas. The Therapeutix offers you four 4D massage variants, variable on five levels of speed, width and intensity.
Health detection
On the left arm of the massage chair, Therapeutix has a digital sensor to detect the user's health status. In a few seconds, parameters can be determined that will help to customize the massage. For example, microcirculation, oxygenation or heart rate data are essential to configure an optimal, therapeutic or simply tonic program.
20 preset massage programs
Therapeutix performs a 4D massage adjustable on 5 levels. The preset selection offers you 20 automatic programs, grouped into 5 general categories. In this way, even the most demanding expectations will be met. There is the category of smart massages, those intended for tone, general relaxation or personalized for family members. A 4D massage is, technically speaking, a complex surface massage, but especially a deep intense one.
| | |
| --- | --- |
| 1. Brain Relax | 2. Neck & Shoulder Care |
| 3. Back Spa | 4. Hips&Legs Fit |
| 5. Leg&Foot Relieve | 6. Energy Boost |
| 7. Lunch Break | 8. Sweet Dream |
| 9. Relieve Muscle | 10. Body Balance |
| 11. President Cosy | 12. Keep Fit |
| 13. Superior Enjoyable | 14. Office Regimen |
| 15. Health Recharge | 16. Full-body Stretch |
| 17. Chinese Massage | 18. Thai Massage |
| 19. Spine Traction | 20. Sport Recovery |
11 massage techniques menu rewards every expectation
1. Kneading
2. Patting I
3. Patting II
4. Kneading and Patting
5. Finger Pressing I
6. Finger Pressing II
7. Shoulder Grasp
8. 4D I
9. 4D II
10. 4D III
11. 4D IV
Automatic footrest adjustment
A massage chair is an intelligent machine that must immediately adapt to the size and weight of the user. Essential in this regard, is the scanning function; however, the possibility of extending the footrest is also significant. Therapeutix has the option of automatically making manual extensions by the user.
Bringing warmth into everything
The option to double the effectiveness of the heat massage is one of the attractive points of Therapeutix. One push of the button is enough for better blood circulation or to warm the back. The network of graphene resistors will immediately give you an incredible sensation.
Weightless massage
Relaxation, in the case of Therapeutix, starts from the first moments. Therefore, you can opt for the "Zero Gravity" position before selecting the type or massage technique. The massage chair immediately gives you the feeling of floating and automatically induces a sense of safety and complete relaxation throughout the massage session if you reposition it horizontally. In the case of the Therapeutix massage chair, two variants of anti-gravity positions are available.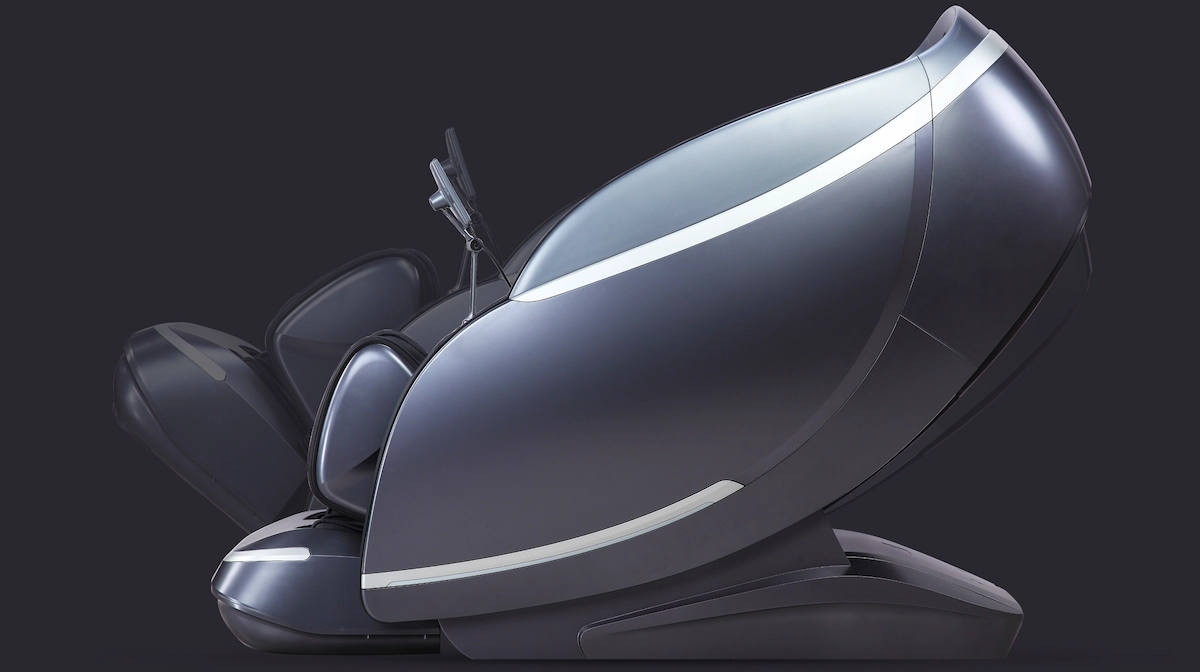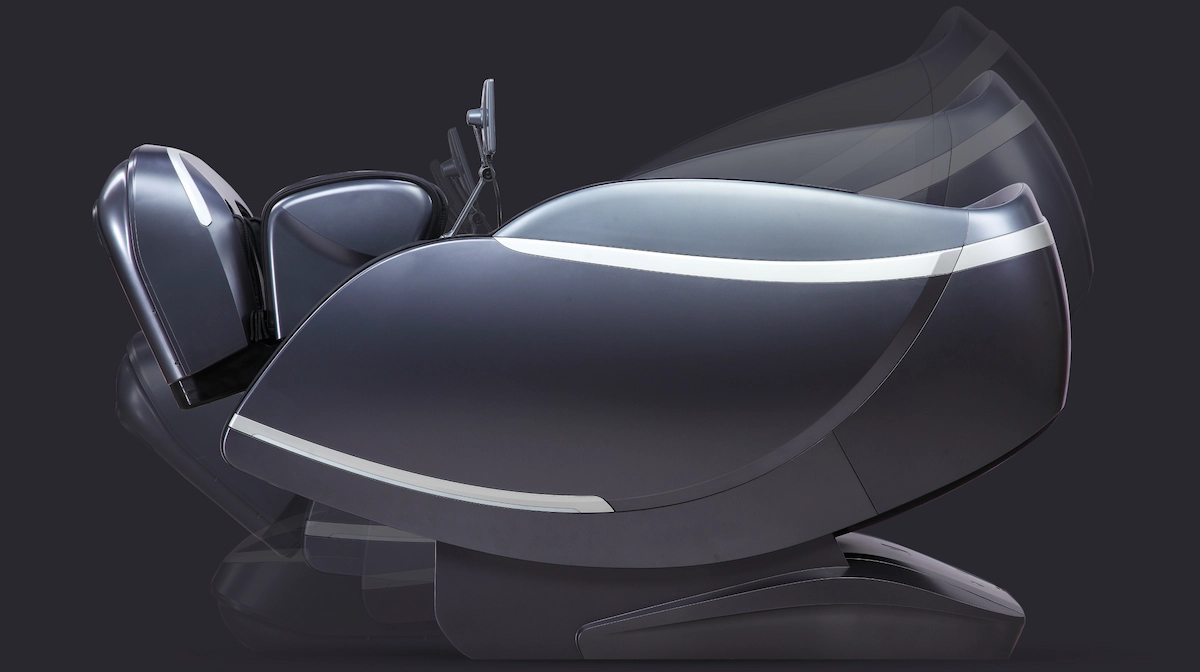 Airbags streching
The airbags assembly allows for the Therapeutix superior performance. Three massage levels of these airbags are set from the start, whole, only at the bottom and only at the top. Also, by adjusting five intensity levels of the air pressure, the airbags can offer a complete stretching program, including knee stretching, calf kneading and shoulder relaxation.
Talk with Therapeutix!
A large, bright LCD tablet attached to the left armrest lets you control your massage experience fully. But, for your comfort, Therapeutix also executes the massage program by voice command, the moment of relaxation being total in this case, all the care being taken over by the personal assistant Alice.
Massage and music
One of the prominent features of today's massage chairs is the sound system and Bluetooth function. Therapeutix offers more relaxation doubled by music or your favourite radio program using an extraordinarily efficient and well-calibrated audio system.
Alluring design
Therapeutix is a new-generation armchair, so the care for shapes and details is visible. Available in several chromatic variants, this massage chair will immediately fit into your home's landscape, in the office or therapy room. Made entirely of ecological materials, the massage chair has been designed to last in perfect condition over time. Five centimetres from the back wall are enough for the chair to move safely inside your home.
Technical specifications and characteristics
Automatic Massage Programs:
20
Massage techniques
11
Timer
Yes
4D massage on the entire back surface
Yes. 135 cm SL rail
Manual massage with the possibility of 5 zones localization:
1. Fixed point
2. Back massage
3. Upper back massage
4. Lower back massage
5. Low-intensity local massage
The intensity of the airbags
Adjustable in 5 steps
Massage speed
Adjustable in 5 steps
Legrest
Extendable 20 cm
Heating for the lumbar area
Yes
Massage Robot
4D adjustable on 5 levels of intensity
Calf kneading
Yes
Reflexology
Yes. In three points and adjustable on 3 levels of intensity
Tablet
Yes. On armrest
Upholstery
Ecological leather
Net weight of the armchair (kg)
133 kg
Power supply
220 - 230V
Presentation:
Video user guide:
Dimensions
Request our Black Friday Price List via Email!
Speak with One of Our Massage Chair Specialists! ☟
Sergio
Barcelona
It is true that you have to spend a considerable amount of money, but the truth is that the product is more than worth it. It cost us double what the Keyton cost us in its day, but it's infinitely better, not just double, so it's worth the price.
Blanca
Barcelona
I only have good words for the Therapeutix chair, easy to use and super complete. It helps me fight back and circulation problems. My family and I are delighted. Highly recommended.
Emilio
Barcelona
Very happy with my Therapeutix chair. In winter with the heating it feels great! and in summer I really like to use it after a good bath at the beach.
María
Barcelona
I had a lot of contractures and leg pain from my work and from being on my feet for so many hours a day. Now I just want to get home to give myself a good massage. Thank you Therapeutic!
Contact and find out one of our specialists!