PRIME Zero Gravity massage chair
KOMODER PRIME: Specialist in your well-being
The PRIME massage chair has state-of-the-art technology with an elegant and avant-garde design dedicated to providing relaxation and well-being. PRIME becomes that oasis of relaxation that is so necessary to compensate for such high activity rates.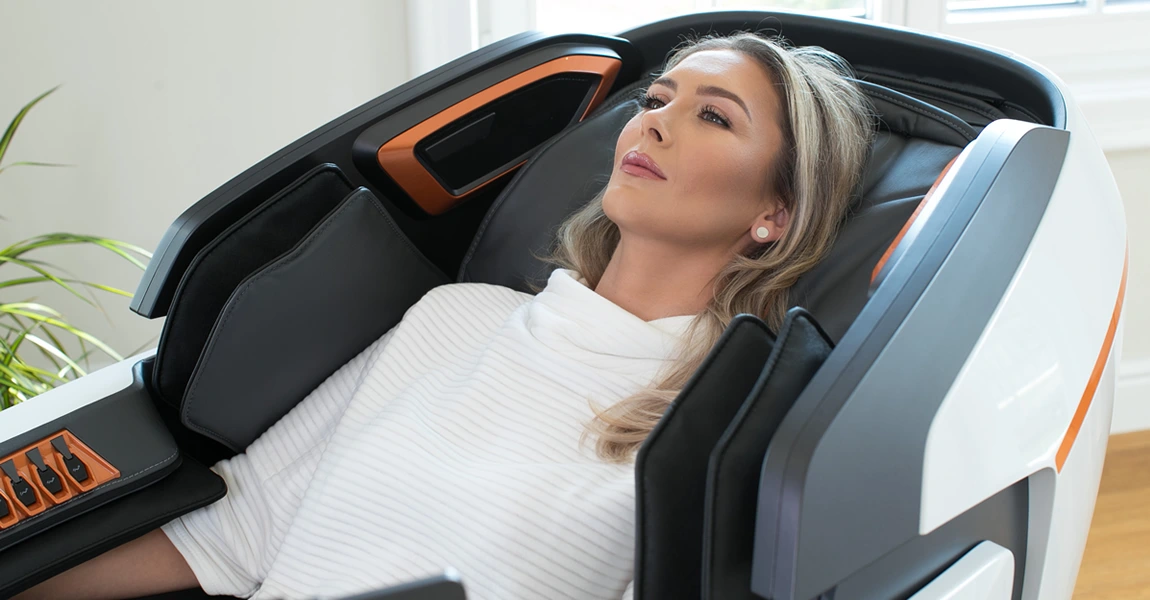 For a life without pain
The PRIME massage chair offers multiple functions dedicated to massage for each part of the body, thus providing well-being and comfort from the head to the toes.
Reward after a day's work
The exclusive functionalities of our new PRIME massage chair contribute to the disappearance of the symptoms of "modern occupational diseases" such as neck pain, lumbar pain or those caused by bad postures.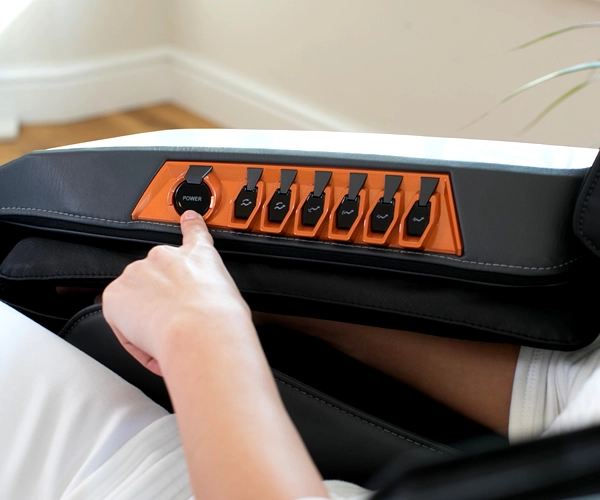 Physical and mental relaxation for your day to day
Sit back and put on your favorite music! PRIME is designed to relax the "body and soul", fusing technology with design and exclusive finishes.
Healthy lifestyle
The health benefits of massage have been known since ancient times. PRIME improves the problems caused by a stressful lifestyle and provides quality of life.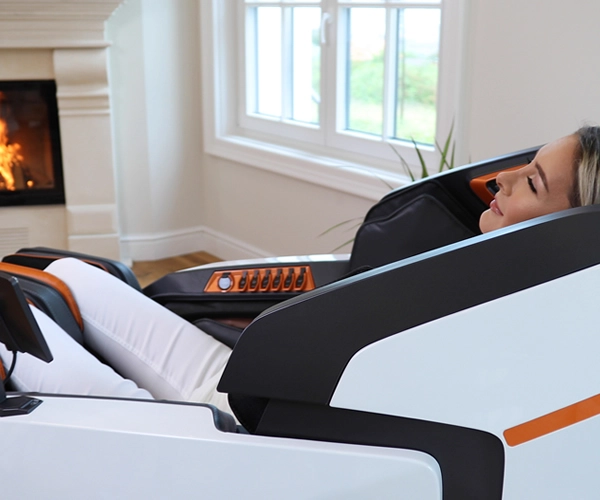 DAILY LUXURY
PRIME includes 12 preset programs designed for your well-being. Whether it's early in the morning or late in the day, PRIME lets you set session lengths to fit your daily pace.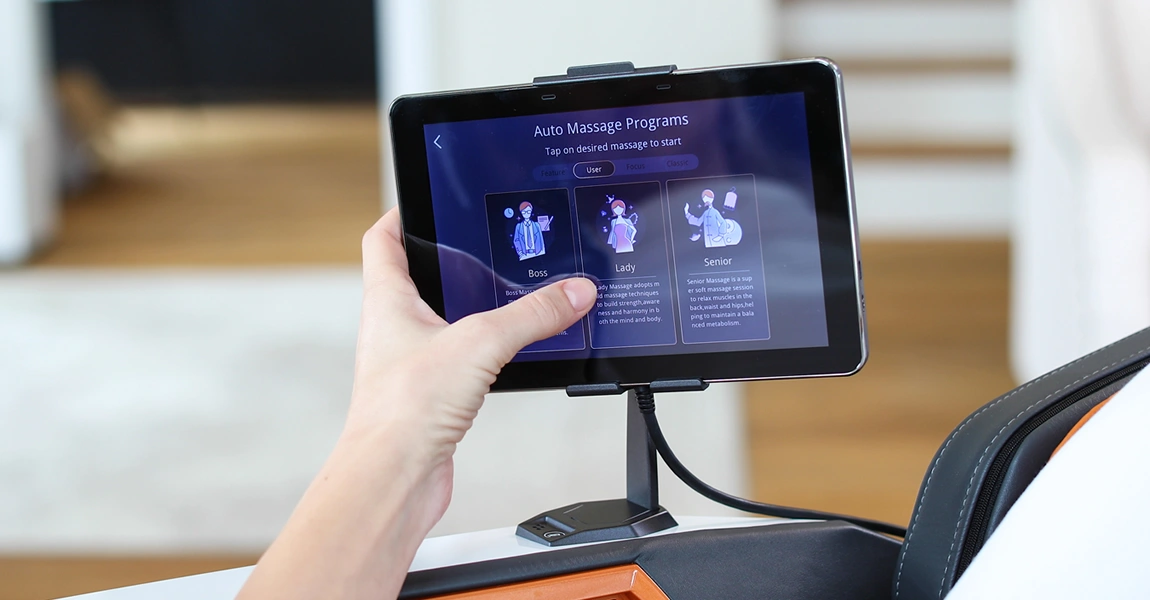 Technology often becomes the reason why you can feel stressed. PRIME revolutionizes the equation: our research & development puts technology at the service of health and well-being. Without stress, simply and intuitively!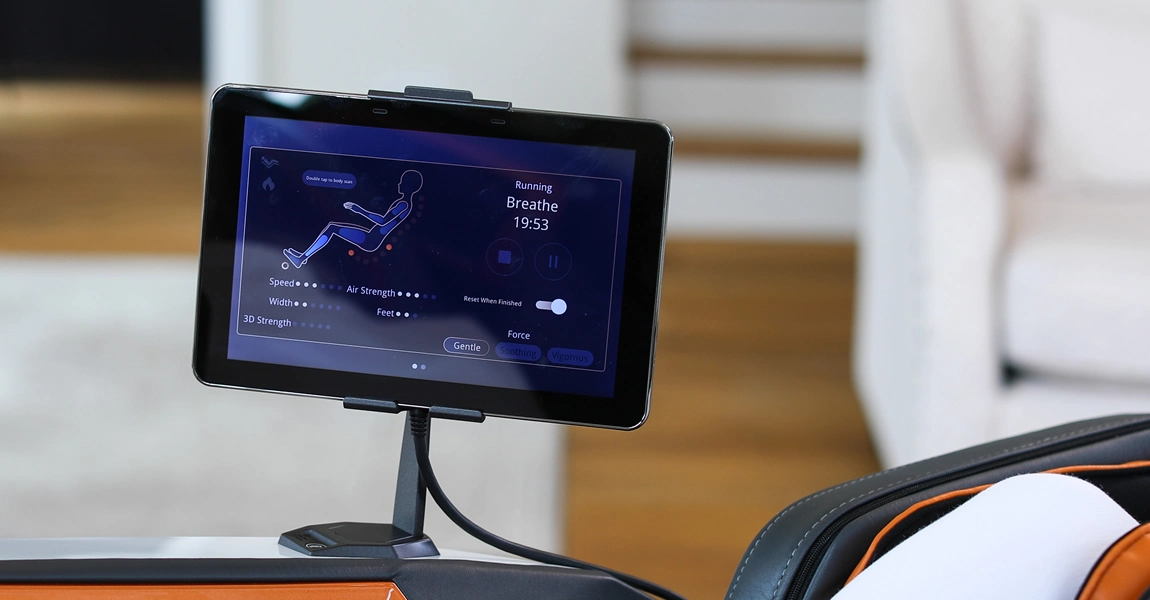 DOUBLE MECHANISM, DOUBLE ACTING
The 3D deep tissue massage mechanism joins the forces of the specialized mechanism for waist and buttocks. The effect? A synchronized massage, similar to a massage performed by exports with four hands.
MATERIAL NOBLE QUE MERECE UN PREMIO NOBEL
The Swedish Academy awarded the Nobel Prize to the inventor of graphene. PRIME offers graphene heating that doubles the efficiency of the massage, stimulates circulation, reduces pain and muscle stiffness.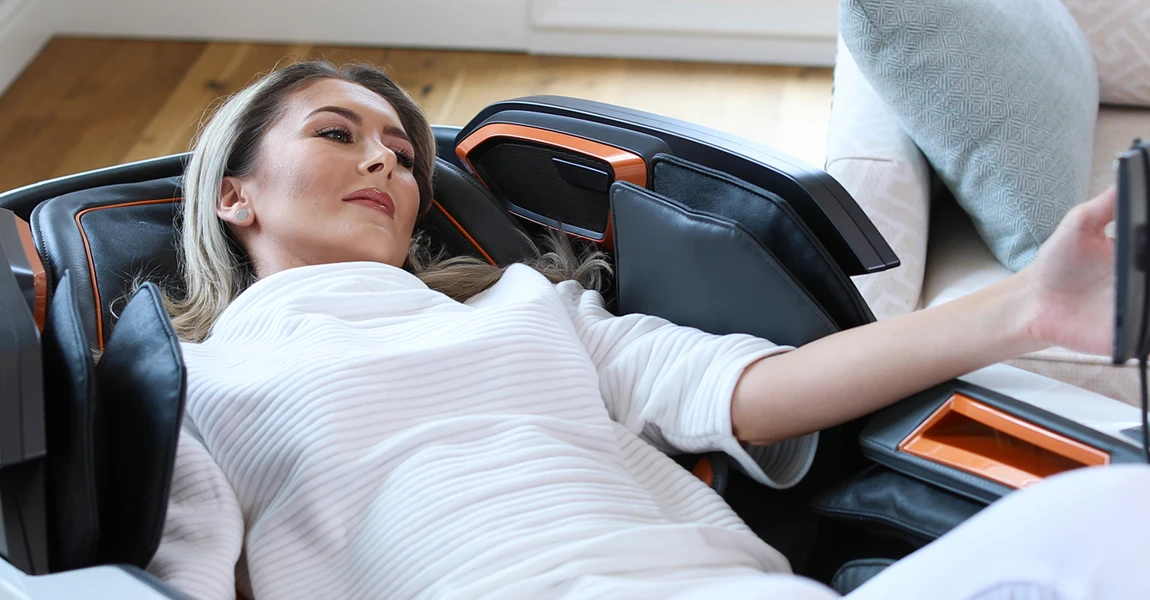 Two massage shafts for the back
Upright mechanism
The massage mechanism acts on the upper part, from the neck to the waist in a straight line along the back.
Flexible mechanism
The second mechanism provides a patented innovation that is capable of arching the back in a Thai massage manner.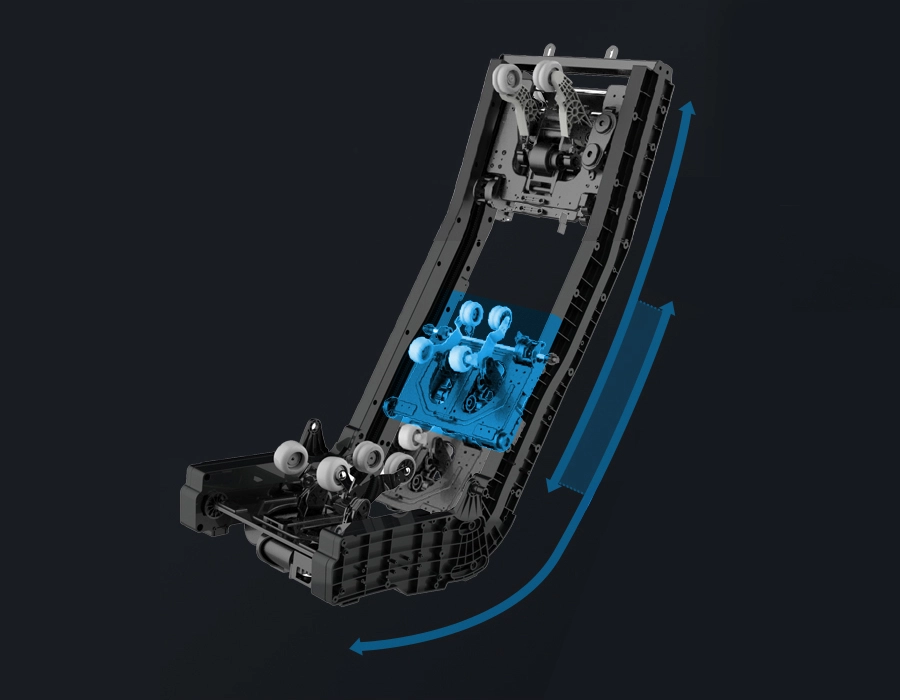 The warm nest of your house
In 2010, two physicists received the Nobel Prize for discovering graphene: a form of carbon with extraordinary properties that originates in the world of quantum physics.
This year, Komoder PRIME puts graphene at the service of your health. Used as a conductor of heat, this carbonic material surpasses the performances of all known materials. The infrared radiation produced is considered the ideal therapy for natural health care.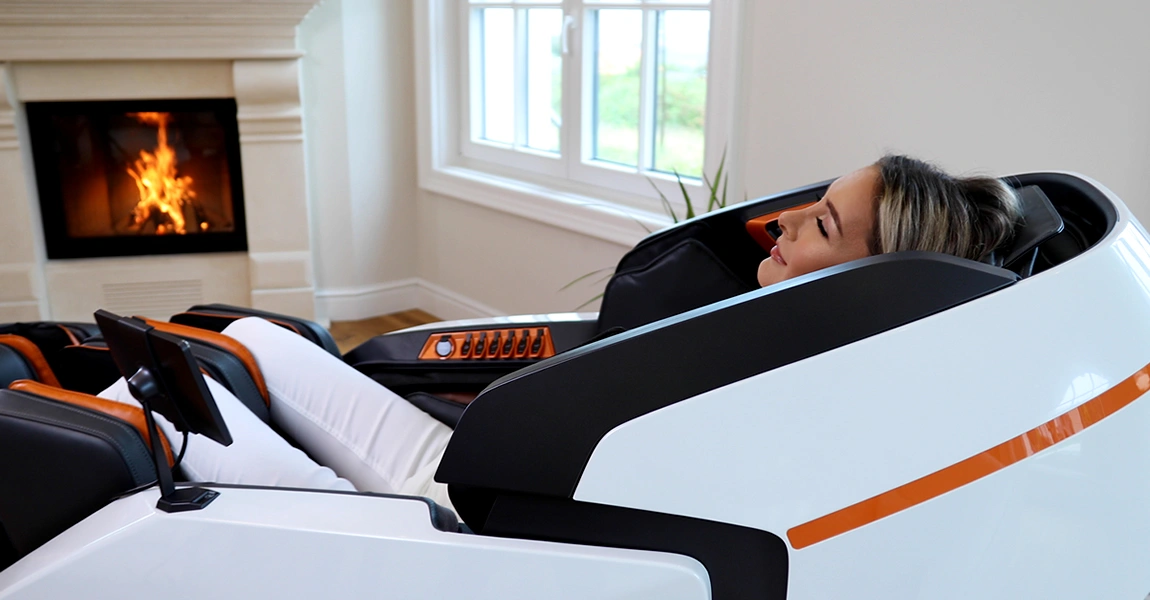 Ergonomics and functionality
The simplicity of the exterior shape houses a dedicated interior for perfect comfort. The design of the PRIME massage chair reflects Komoder's patented technology. Elegant materials, subtle lighting and multimedia functions that come together so that while you enjoy your massage, you can fully relax in a premium and exclusive space.
Ideal for your home
The PRIME massage chair needs only 5 cm from the wall: the massage chair slides forwards and reclines backwards thanks to two synchronized mechanisms that optimize space and offer a completely relaxing position. Its elegant design, with joints and volume games, make PRIME an exclusive element of well-being and decoration.
Unique, balanced, distinguished
PRIME uses elegant lines and contours united in a modernist aesthetic. The contrast between concave and convex forms a unique space that provides a unique feeling of privacy and security.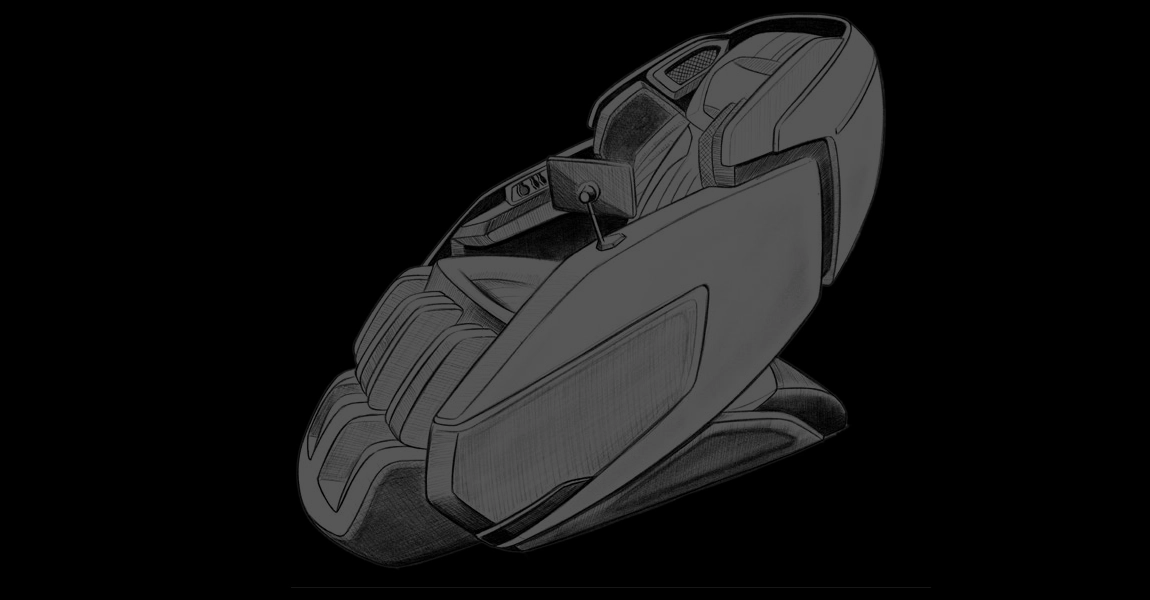 Distinguished and elegant finishes
The side panels have seams and finishes that provide three-dimensionality and allow the PRIME massage chair to match most decorations and environments!
We use the latest generation materials
Premium materials such as high-quality leather have passed the most demanding tests in accordance with RoHS standards. These materials also evoke a handmade luxury object.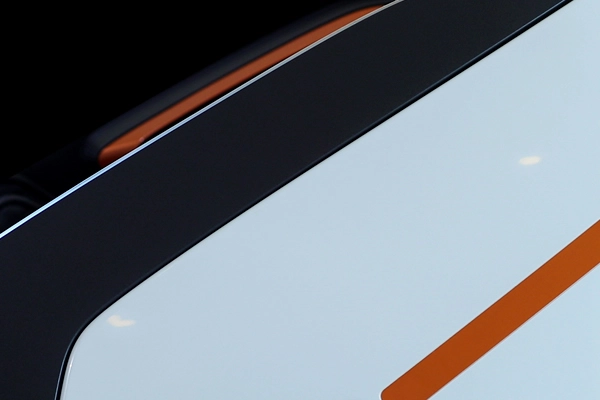 A SPACE OF ABSOLUTE COMFORT
Advanced ecological materials
Made with advanced polyurethane synthetic leather, PRIME has an aesthetically fine and attractive texture, which offers a delicate and comfortable sensation from the first contact and whose cleaning requires only a damp cloth. PRIME complies with environmental and quality standards in accordance with the RoHS directive, which certify that only materials that are not harmful to humans and nature have been used in its creation.
Uniquely designed pads
With advanced polyurethane synthetic leather pads, PRIME identifies itself with a unique design and ensures that each part of the body is properly accommodated by one of the pads: A padded pad that covers the entire seat, the combination of a largeand another medium to cover the back and finally a small pad for the head.
PRIME pads are designed to provide a personalized experience for each user and allow for either gentle massage or removal to increase intensity and sensation.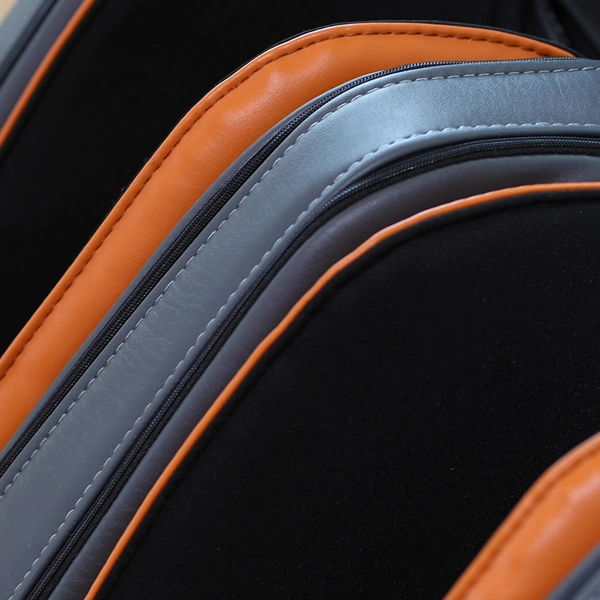 Full control with one finger
The touch screen console makes all PRIME functions within reach with a simple finger, even the most advanced for the connection of mobile phones or tablets. The graphic icons have been carefully designed to make everything simple and intuitive. On the armrest it has 7 buttons for quick access to the basic functions of the massage chair.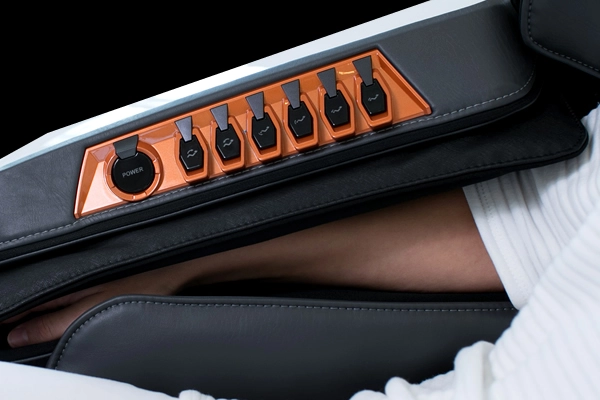 Kneading and synchronized pressure


Massage rollers offer a synchronized massage between kneading and pounding along the back to combat muscle stiffness.

Intense pressure


The massage rollers constantly press the specific points on the meridian of the back: the only pressures that eliminate your worries!

Shiatsu massage


Massage rollers apply pressure to the meridians and slide down the back to clear blockages.

Rhythmic percussions


The rollers perform the massage by means of rhythmic percussion on the meridian points and move towards the lower part of the back to provide a unique relaxation.

Delicate kneading


Eliminate muscle tension with these delicate movements: the rollers perform a rotating movement whose effects you will feel immediately.

Shiatsu 3D


The massage rollers rise up to 8 centimeters, offering a deep massage to the meridians and energy channels of the body.
Neck


Massage that gathers the pinching, with the lifting and stretching of the neck, clears the mind and improves memory.

Shoulders


Pressed and kneaded for the shoulders. A perfect program after a day at the office in front of the computer, to eliminate all the contractures in your back. Eliminate pain and tension!

Shoulder pads


Sensitive area that needs a delicate and innovative therapy: this new program is perfect for training and relaxing the area, with beneficial effects for the back.

Chest


Improve the flexibility and mobility of the thoracic muscles thanks to a new chest stretch technique that mobilizes the entire rib cage. Breathe gently!

Waist


The Thai stretch helps to stretch the spinal muscles in the lower back, with beneficial long-term effects. Prevent future problems!

Plantar zone


18 air cushions incorporated in the plantar support and rapid heating system with graphene helps to quickly relax stiff muscles and stimulates blood circulation in the plantar area and feet.

Three rollers with bumps for the plantar area that offer additional stimulation of reflex points.

Sensitive? PRIME allows 5 settings for the intensity of the air massage in the plantar area.

Feet


The dual-role footrest, a patented innovation that offers both-way support and traction and automatically adjusts for users of various heights.
A friend who is always by your side
More and more of our life is linked to the use of mobile phones. PRIME helps you stay connected. The chair allows you to connect your phone via Bluetooth and listen to music through its integrated speaker system. It has a dedicated USB port that allows you to charge your mobile.
Stereo speakers with surround effect
Do you want to close your eyes and let your body float completely thanks to PRIME air cushions? Accompany the relaxing experience with your favorite music through the NICAM stereo speakers that provide exceptional sound quality. The perfect combination to relax your body and soul.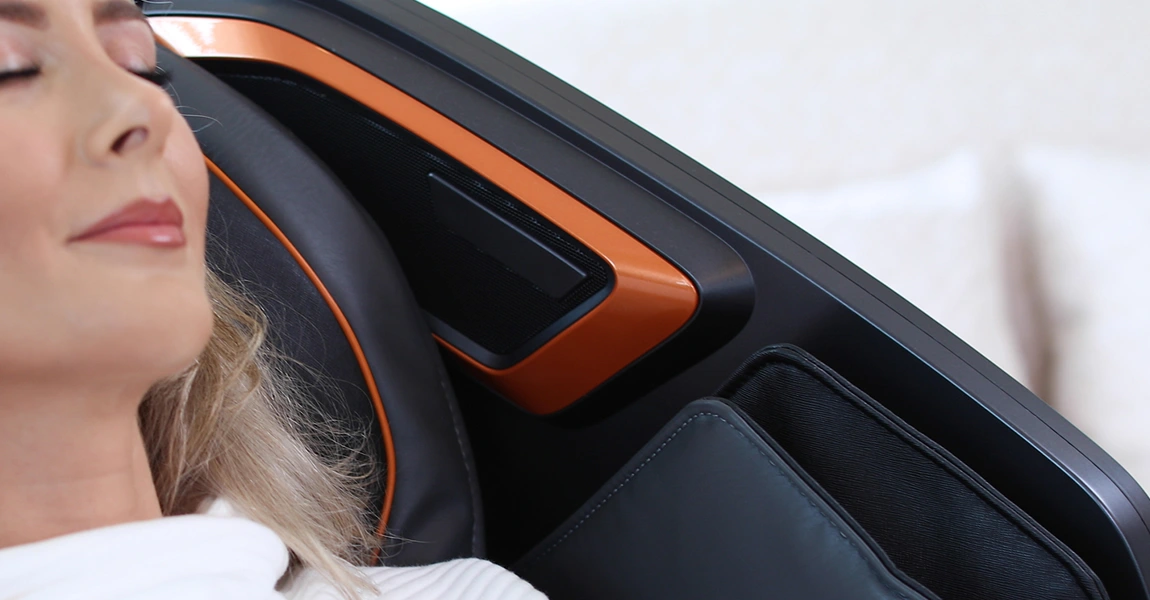 Technical specifications and characteristics
| | |
| --- | --- |
| Timer | Yes |
| Automatic Massage Programs | 12 |
| Automatic Reclining | Yes |
| Footrest | Extends automatically |
| Airbags in buttocks area | Yes |
| Calf airbags | Yes |
| Massage Rollers | 3D |
| Back Massage Systems | 2 Independent Systems |
| Calf Massage | Yes |
| Reflex Therapy | Yes |
| Heating | For back and legs |
| Controller | Touchscreen Tablet |
| Controller Stand | Yes |
| Video user guide: | |
Request our Black Friday Price List via Email!
Fill in the form for an instant Black Friday Quotation! ☟
Jut
Vimioso
It is great. Thank you!
Antonio
Almería
It's amazing, I have no words to describe the feeling. The stretching program is my favorite.
Dario
Barcelona
A unique experience, I already have the PRIME massage chair at home and we use it every day, Alexandra attended us, super attentive, polite and friendly, she answered any questions and took care of everything.
Pedro
Barcelona
Hello, are you looking for a therapeutic massage chair? I wouldn't look any further, I have the Komoder PRIME model massage chair, it's the best on the market, I can't live without it, you contact a test and you don't accidentally get off one. I tried it in Barcelona Alejandra and a very kind girl attended me, she behaved very well and answered all my questions.
Antonio
Almería
Delighted with my Prime chair. Indispensable after a hard day at work and delighted with Alejandra who was just as professional when it came to selling it to me as when I had a problem and they solved it quickly and that is appreciated. On top of being so far away (Almería) and everything by phone I always recommend you because I have had a good experience with you.
Miguel
Barcelona
Magnificent treatment and attention. I bought two state-of-the-art armchairs to be able to offer welcome couples massages at my hotel 'Almazara de San Pedro'. A complete success. We have accompanied the armchairs with an immersive experience through the projection of images, smells and sounds.
Gonzalo
Barcelona
I have bought the Prime model and the truth is that I am delighted. A great success to take care of my health. Alexandra very professional and very kind. A pleasure